When Brookly-based group Psymon Spine recorded the music video for their single "Jumprope," they did so separately, thousands of miles apart. Residing in Berlin, Germany, singer Sabine Holler filmed a large portion of the video independently from her New York bandmates, seamlessly weaving the European city's backdrop into the final product. In my mind, the experience feels like quite the ode to adaptability. While it's no surprise that the pandemic has changed how we all interact, its effects on the artistic process, the industry, and collaboration have often been obscure—subtle but forcibly existent.
Recently, Sabine picked up a film camera to show us her life in Berlin, and we chatted about the pandemic, her past & future collaborations, and some of her favorite songs. Check out our conversation below, and listen to Psymon Spine's new record Charismatic Megafauna out now via Northern Spy Records.
Slumber: You most recently worked on the newest album Charismatic Megafauna for Psymon Spine—how would you describe this release with a movie title, to someone who has never heard it?
Sabine: Dr. Strangelove or How I Learned to Stop Worrying and Love the Bomb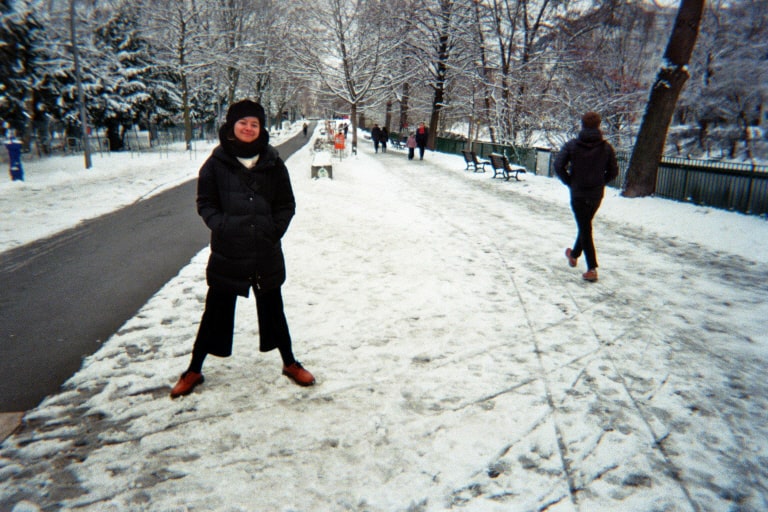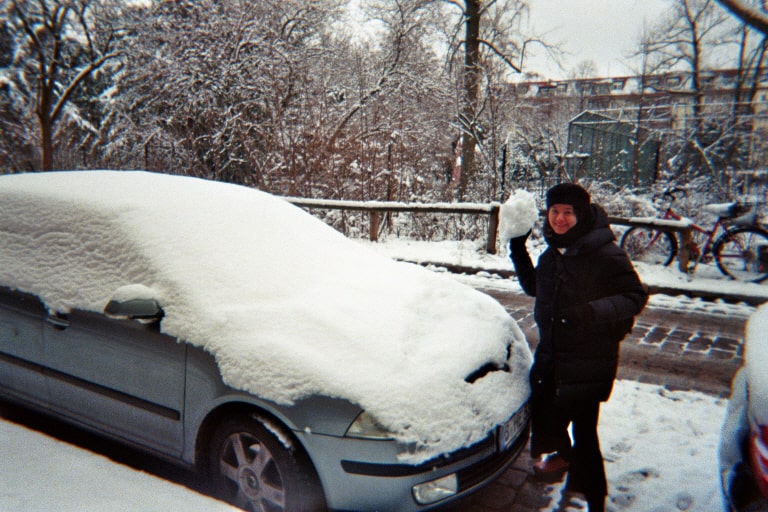 Slumber: You moved to Berlin to study and are currently there during the pandemic, waiting to return to New York. From your perspective, is there a large difference between the artistic community in Berlin vs NYC? How has your experience in either or both of them influenced you and your creative projects in recent years?
Sabine: This is a hard question for me because I am really biased. I lived 4+ years in Berlin and 3 years in New York. I can say I know both places fairly well.
There are huge differences between the two cities, but both places are melting pots, vibrant and full of young people with beautiful ideas. I learned a lot about electronic and experimental music in Berlin, and I will always carry that amongst my influences. But, I moved to New York because I didn't really fit into the Berlin scene. I am not a DJ, I play guitar.
Berlin should be easier for me as a German citizen, but I feel more understood and welcomed in New York because after all, I am from Sao Paulo, and I love the metropolis vibe, love the speed, fearlessness and eagerness, and to make things happen that new yorkers have.
I've always studied, fantasized, and dreamt about New York…so maybe let's say that…the grass is always greener on the other side.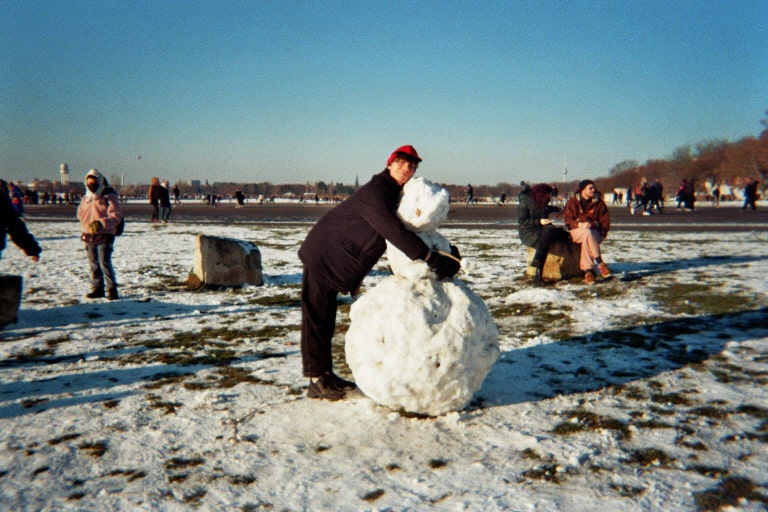 Slumber: What's your favorite song you've ever written? (either solo or with others)
Sabine: "Planetarium," I wrote it during one of the many liminal moments of my life, and the more I live, I understand I am always liminal.
Slumber: Following that, what's the song you wish you could've written?
Sabine: "Lover, you should have come over" by Jeff Buckley.
"It's magical to see what something can become when you combine different heads. I think each of the bands I've collaborated with resonates a side of my personality."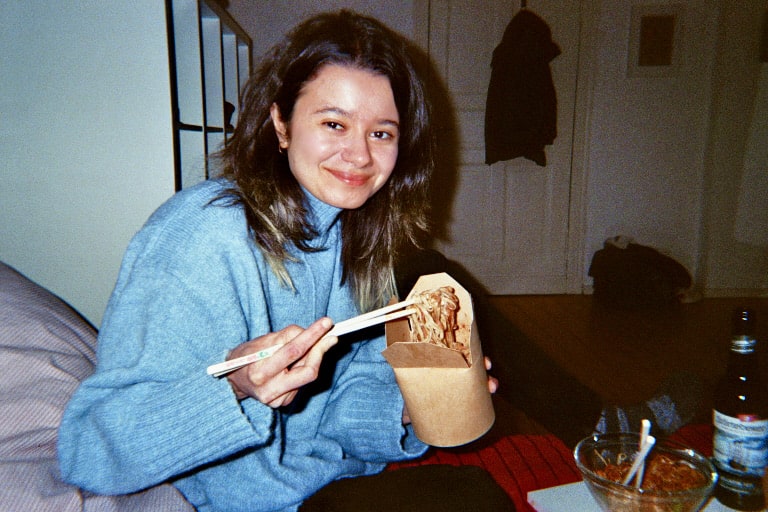 Slumber: Finishing and releasing an album during a pandemic is a very new and different experience—especially now when Psymon Spine isn't in the same place. How has it been navigating that process? Any disadvantages? Moreover, any unforeseen advantages to it?
Sabine: It's pretty hard on bands our size that need live concerts and in-person connections to be able to grow and carve a place in the music industry.  I only played ONE real show with Psymon Spine (on March 4th, 2020) … we were definitely hit by a momentum block with the whole pandemic. But we love our music and we want people to listen to it, as soon and how we possibly can. On the brighter side, we got used to a weekly zoom meeting, and our manager, Ron, has been doing a great job holding it all together. It's great that technology is here to help us feel connected, but we all know it's not the same thing.
Slumber: Say the pandemic is over, and Psymon Spine is back together—where's the first place you want to perform this record, and what's the dream lineup? 
Sabine: I want to perform it in Brooklyn, with our friends, to our friends.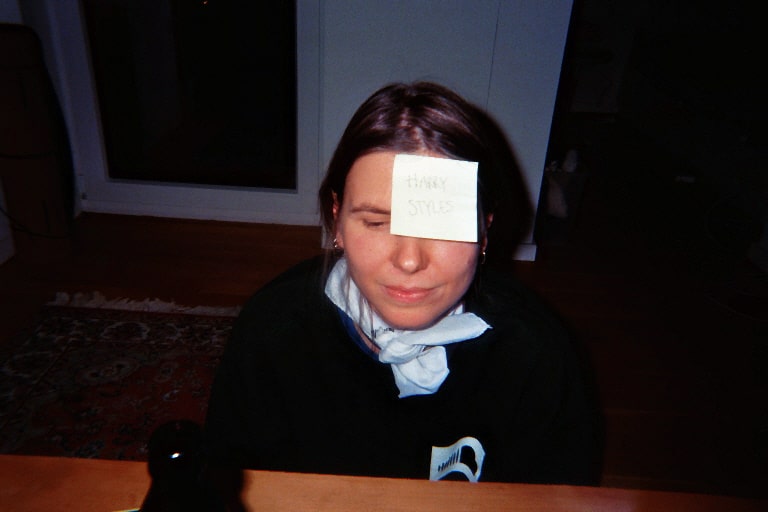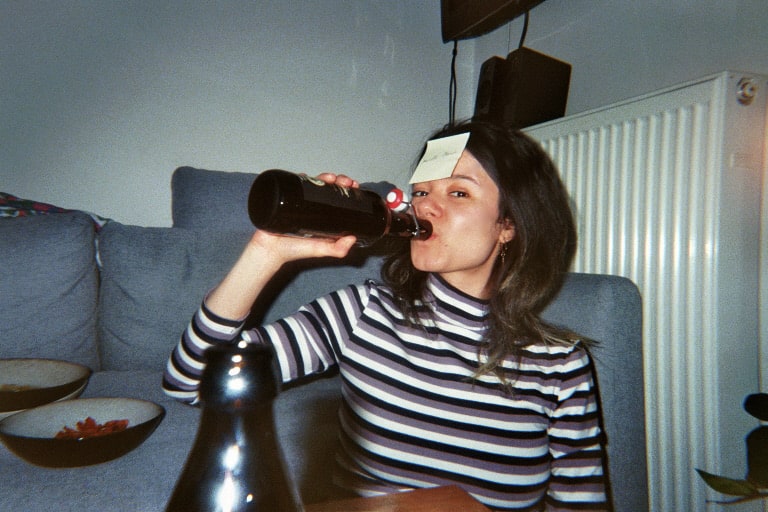 Slumber: Apart from Psymon Spine, you've collaborated with several other projects: Barrie, Jennifer Lo-Fi, Ema Stoned, among others. There's something incredibly special about working so closely with others in a creative setting. What is it that draws you to certain projects? Is it the opportunity to explore new sounds or—what excites you about collaboration?
Sabine: It's magical to see what something can become when you combine different heads. I think each of the bands I've collaborated with resonates a side of my personality. I enjoy being fed and feeding those connections.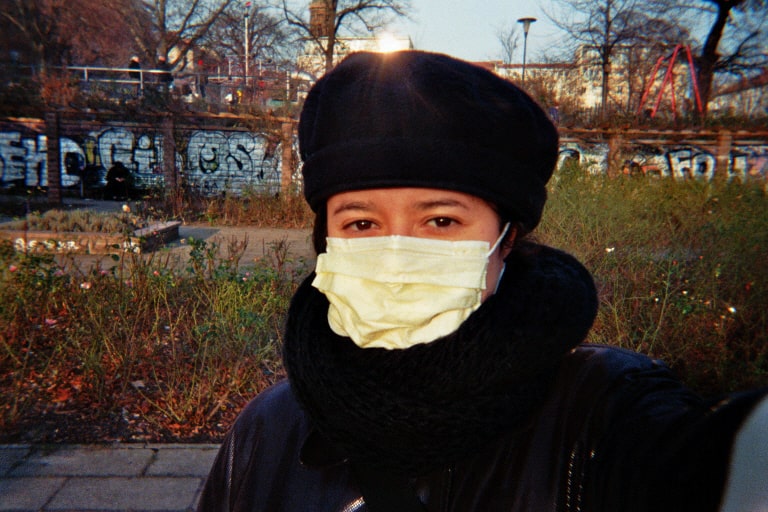 Slumber: You also release music on your own, releasing your EP, Mother of Transition back in 2017. What do you find to be different or similar to you working creatively by yourself or working with others?
Sabine: When I am writing by myself, the experiences I am talking about are solely mine, and the choices I am doing are to please myself. When writing with others, I tend to compromise a lot and welcome every single idea…You always come when you are masturbating…but the intensity of it it's way bigger when you let go and trust someone else.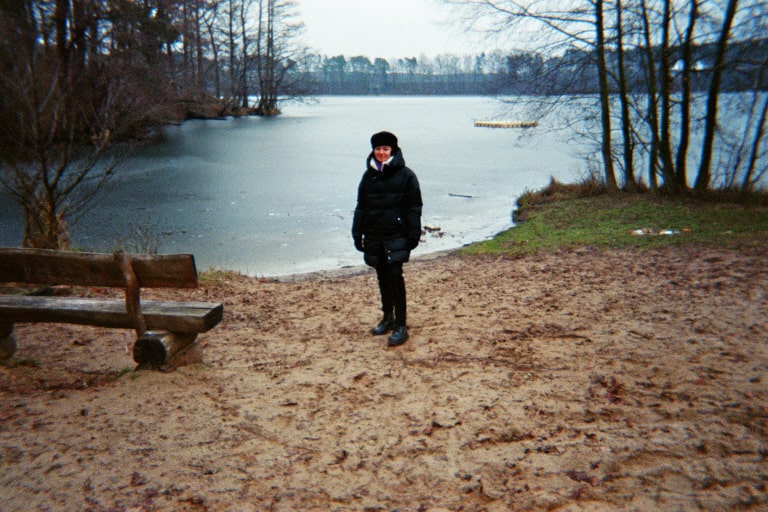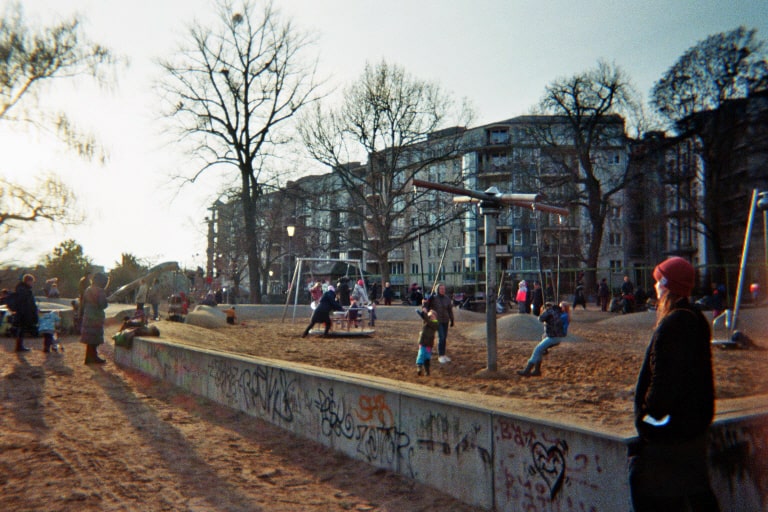 Slumber: What was a record that inspired you growing up? What excited you about it & how do you feel about it now?
Sabine: Homogenic by Bjork. I think it was the first time I listened to any sort of experimental or electronic music. It aged very well, I remember finding it amongst my older sisters' CDs when I was in middle school. The emotion and experimentalism in it are so unique. It's an empirical truth to me.
Slumber: How have you been spending your time during the pandemic? Have you started any new hobbies, or more generally, any new part of life you've discovered that excites you?
Sabine: I became a web-developer! lol. I enrolled in a Bootcamp last year, learned all that crazy JavaScript and I am freelancing at the moment. Pretty fun. Lmk if you need any websites built 🙂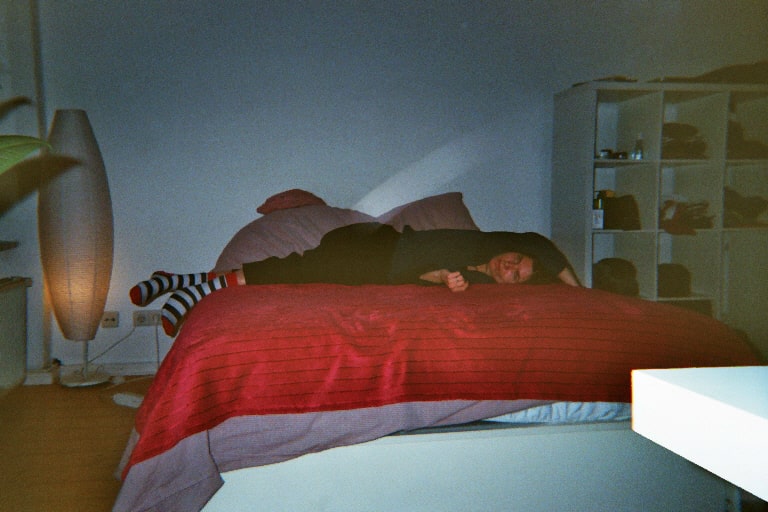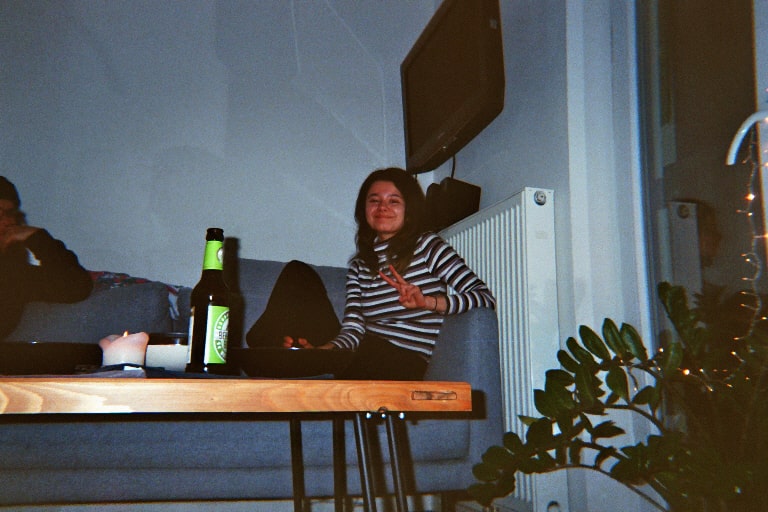 Slumber: Hopefully in the coming months, the pandemic will be behind us and the world will go back to some semblance of normalcy. What's next for you, either in your solo work or in your other projects as we head into the rest of 2021?
Sabine: I am finishing my new solo album! Super excited about that, it's a dream of mine to be able to share it with the world, because I've been writing it since 2017.  I am working on it with Filipe Miu, who was the guitar player of Jennifer Lo-Fi, and is a fantastic composer, string arranger, producer etc. 
I also recorded a video of a song I did with Noah Prebish (of Psymon Spine obv) in 2019, I haven't been able to release it because the theme is REALLY anti-pandemic…But maybe soon the time will be right.
And me and the boys of Psymon Spine have started to work on the LP3! We've been writing and sending each other tracks.. so maybe new music will be there soon!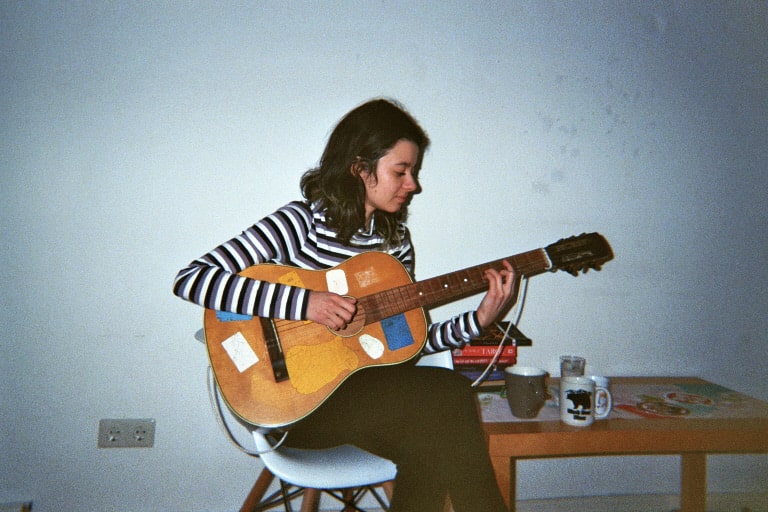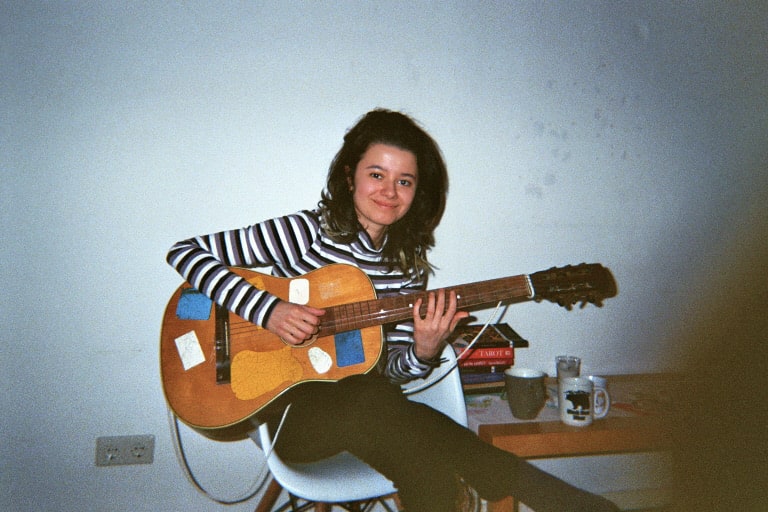 Listen to Psymon Spine's new album Charismatic Megafauna out now via Northern Spy Records: