You Or Someone You Know opens with "End of the World," a track that immediately transports me to one of those scenes in an indie flick where the suburban teens are riding around their town with the windows down.
It's cliche I know, but there is something about the freedom that those kids in movies always seem to have – that the right song, the right people, and the right weather can somehow remedy a bad day or societal injustice. But then, as if anticipating my new found cosiness, Worriers promptly reminds me that the world I am listening in does not exist in film, but instead manifests as one enormous dumpster fire. In the first verse singer/songwriter Lauren Denitzio sings: "I found a nice house in the bay / we could go there, but there's fire and earthquakes." This dichotomy runs through Worriers' entire album. Denitzio masterfully blends upbeat and hopeful sounds with lyrics that punch you in the gut and then hand you a mirror to examine the damage.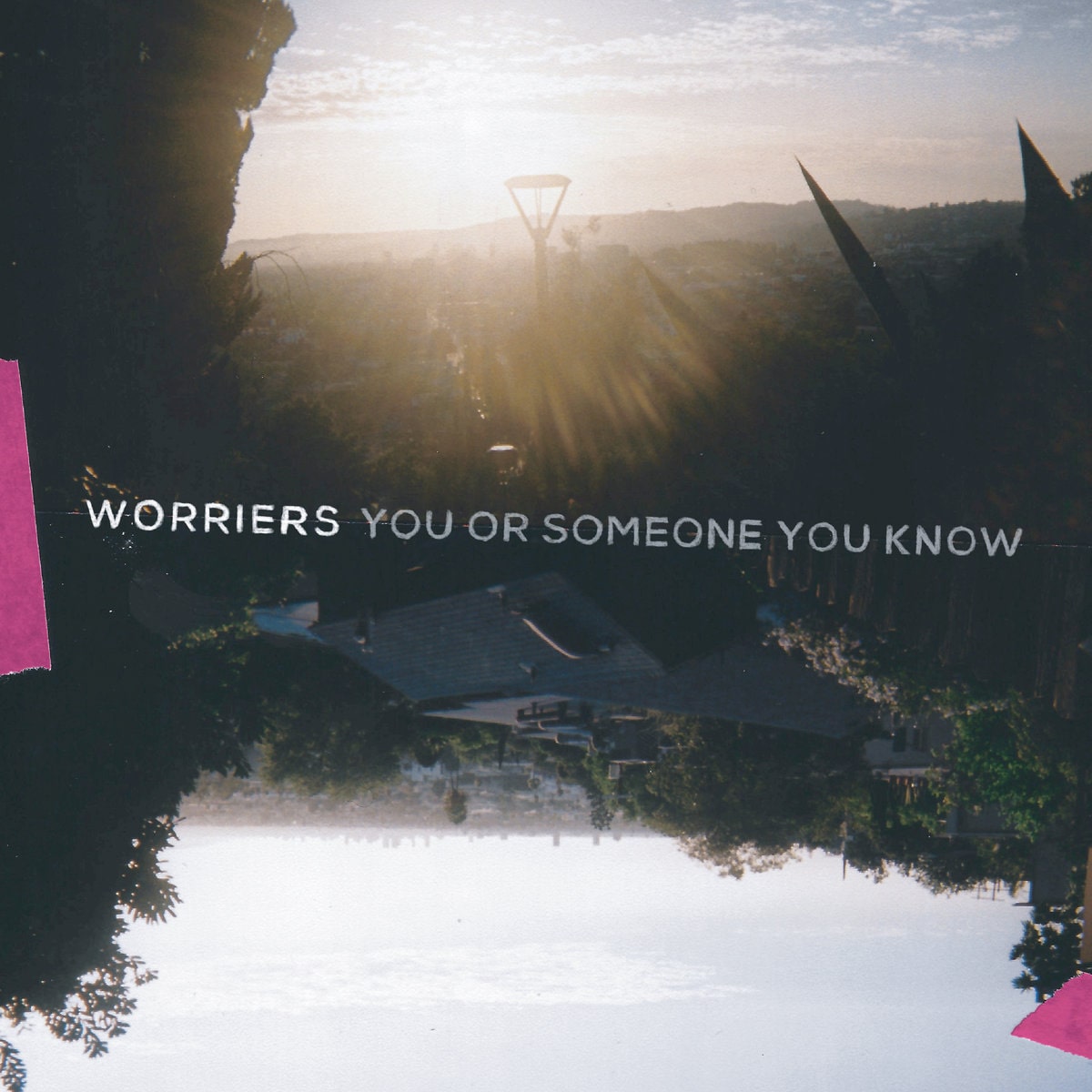 Set my sights on the life that you get when you put the hard work in /
Only to be told with your fingers crossed /
That they vote you a person
This serves as a friendly reminder that if you, like me and Denitzio, are queer, those happy endings are not a guarantee.
Fortunately, this record isn't punching me in the gut at every corner. Halfway through this record, the song "Chicago Style Pizza is Terrible" stops me in my tracks. Partly because of the title(1), but more importantly, because this one is an ode to introverted queers and the Jersey Shore(2) which are two things near and dear to my heart.
If it's a party you're after, you won't always get that from me /
I'm perfectly happy to lay in the sun /
And I'm a master at leaning against things /
Just let me have the fun that I want
Denitzio's simultaneous rejection of others' expectations of extrovertedness, their demand for acceptance, and for their right to take up space, is a powerful one. It carries into the penultimate track "Relentless Noise" where they announce that they "want to fill the room with the relentless noise." Needing to be seen as you are is a relatable feeling; one of Worriers' goals for this album. Denitzio explains: "I have people come up to me all the time after shows and tell me things like 'I know you're not speaking to my demographic but I really like your music.' But just because I'm speaking from my perspective doesn't mean it's not for you."
"Denitzio's simultaneous rejection of others' expectations of extrovertedness, their demand for acceptance, and for their right to take up space, is a powerful one."
What's great about You or Someone You Know is that Denitzio's perspective is never lost in order to make it palatable to a wider audience. DIY/EMO/PUNK(3) can be a tough place for queerness, but every one of Worriers' releases carves out a little more space in the scene. You Or Someone You Know is a killer addition to an already stellar discography.
Ultimately, You Or Someone You Know reminds me that even when everything feels hopeless, there is still room for enjoyment. There is still room for you and your friends. That everyone deserves that feeling of driving around, worry-free with the perfect song playing; that maybe, living in a cheesy movie isn't entirely out of arms' reach. Worriers' simultaneously soundtracks those carefree moments, while reminding me that, in our current culture, if I want these moments, I need to demand them for myself. And I can.
(1) This is a great take on pizza.
(2) The place, not the T.V. show.
(3) For the love of god, can someone please tell me what we are calling the genre?
Meredith Salisbury is a freelance writer and indie bookseller based right outside of Philadelphia. They write about pop culture, music, and social media. Previously they were a social media researcher and the music director of WMUH. You can find them online @meresalisbury.