This past summer, I saw Katy Kirby play on a rooftop in Bushwick, Brooklyn. It was a tart evening, colored with perfect weather, new laughter, and scents of grilled foods fuming from neighboring taco joints. Amidst the tiny chaos, Kirby played through her album Cool Dry Place with a stripped-down 3-piece band—Logan Chung on acoustic guitar, Alberto Sewald on bass, and herself with a guitar she picked up from Guitar Center a few days ago. When they began, each noise seemed to evaporate one by one.
After a year and a half, my friends and I plunged ourselves into this foreign organism; a crowd of people we may or may not have seen before when we were still swimming in our early 20s pre-pandemic. We're a little older now. But it's funny how that time hung suspended until now. Some people I recognized with chiseled body shapes, recently bald heads, a regular toothpick propped between their teeth. A friend I last saw in 2017 was there. He told me, ecstatically, that he finally bought a new pair of sneakers. I wore a dress for the first time since last summer. 
When the set ended, a PA blared country music in a crescendo until the show's crowd whisked away. Replaced by an entirely new group of night-lifers, a vibe reinstalled itself to another regular summer night in the re-emerging New York City.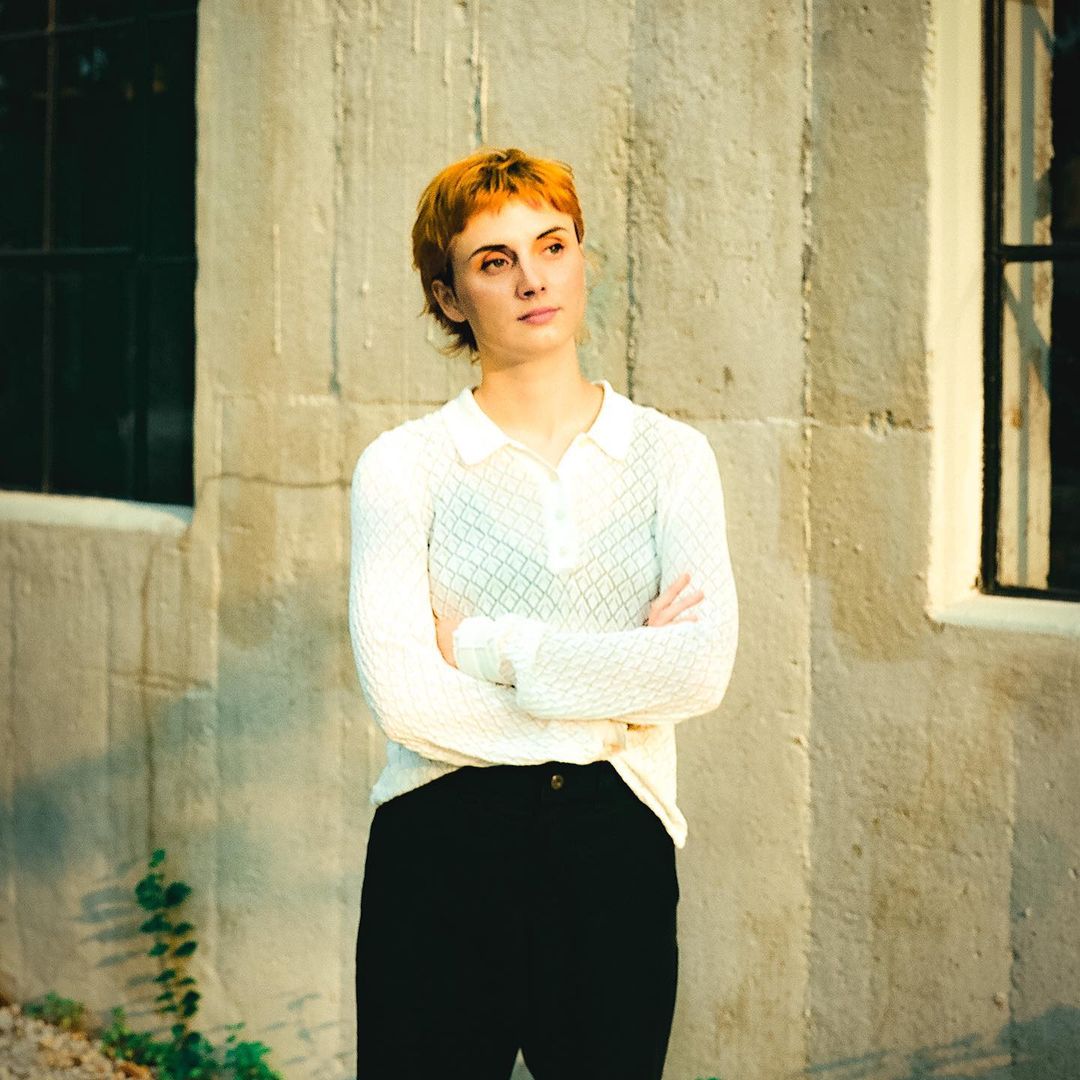 Sprouted from a community, Kirby grew with music like sewing a quilt; the process braided naturally and holistically until you etched something still. Enveloped by religion from an early age, those influences affected both her songwriting and her reaction and interactions with it. "Religious music has a great interest in being sturdy and easy to hang onto, both lyrically or melodically and I imagine that informs how I structure what I write, subconsciously," she told me.
Starting on even playing grounds was important because it paved pathways to make great music. It wasn't gate-kept in an orb based on exclusivity or who had access to which resources. When you remove competition, it's replaced with a trusted willingness to create with one another. Music, as a measurable end goal, aims to foster communities organically and knot them stronger as opposed to reaping materialistic and individualistic outcomes. "There's a universality to [religious music] because we're all god's children etc., and it's meant to be sung communally," Kirby said.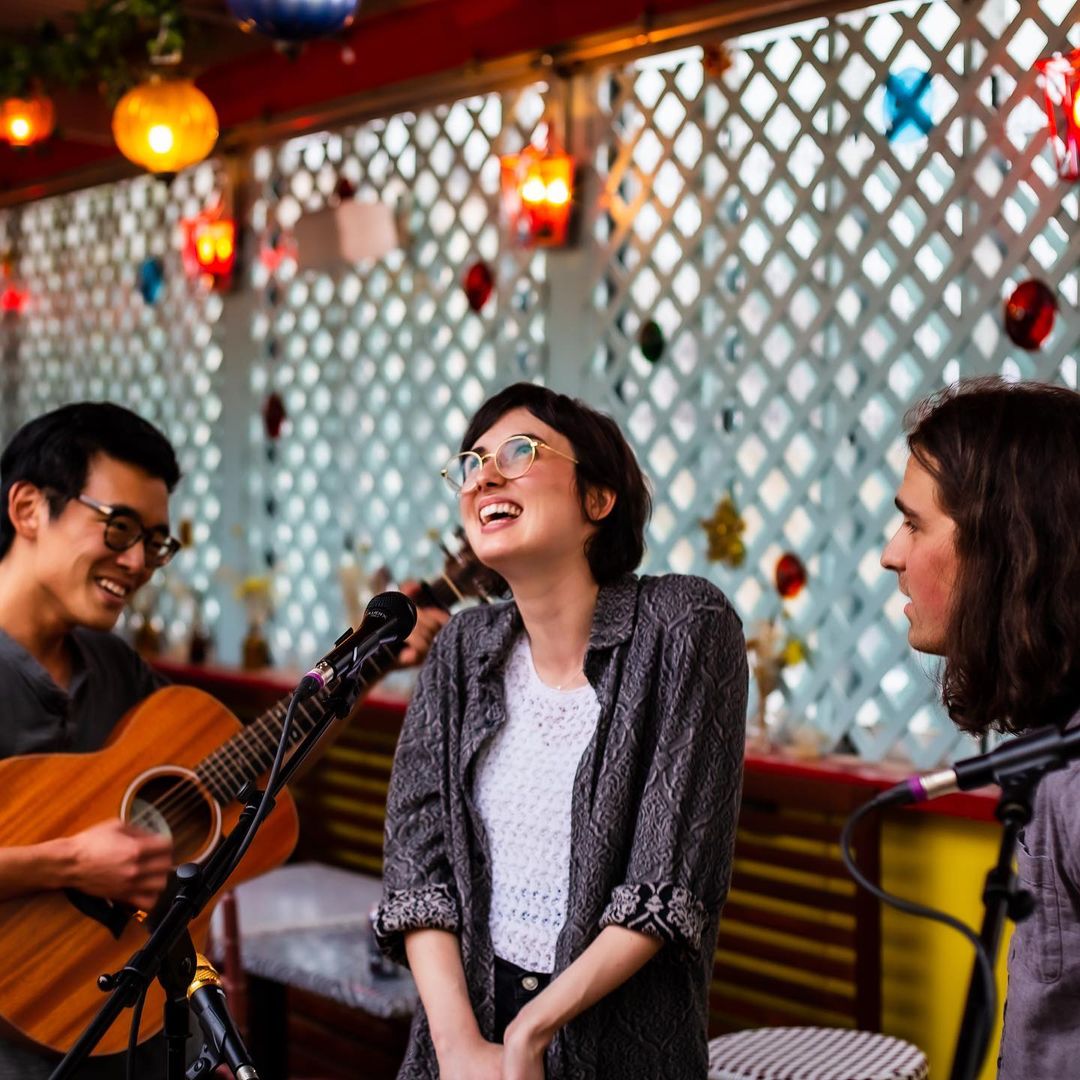 In Kirby's early beginnings, she was a part of the worship team. "Worship isn't necessarily meant to be the most excellent musical expression out there. There's an easy entry point into playing music in a band-ish setting for the first time, whether you're not very good at it yet, or if you're going to be kind of mediocre forever probably," she said. Additionally, the worship team is rarely able to be monetized (with the exceptions of Hillsong or Bethel)" she continued. "There's a very sticky, pure, amateurism, and often with rotating players. These are people with children or jobs, or when people move churches or if there's a new worship leader."
"All this is to say, it seems like it's an interesting place to get used to "making it work" and being uninterested in perfection, an unusually welcoming first habitat for budding musicians and a place where you're allowed to make music even if you're a little bad at it," Kirby said. "It's a place that really requires cooperation and a fair amount of flexibility."
Unfastened from the roots of the church, modern-day use of the word "worship" is commonly hyperbolized. Worship is for everyone, quite literally, and exists as one of the most elastic neologisms to date. Many of us worship other people, even if we don't like to admit it. Or we maintain a cult-like following for high-end supermarkets, fine wines, or rare baseball cards. Perhaps we worship pets like our own kids. And we should worship our bodies, like temples, as they say. For so long, the word slid into our daily lexicons as a distraction, like a pickpocket fondling your bag while recommending the best place in town for oysters.
In Kirby's case, she holds talent in cradling worship into a memory with the people she loves."I saw Alex G in Nashville at Third Man Records, which was near the end of touring for [their album] Rocket. I hung around at the end of the show chatting with a few friends when they started playing "Life is a Highway" extra loud in an attempt to clear people out," she recalled. "We were giddy enough from the show that our little pod started enthusiastically dancing and thrashing along. It's a pretty long song, it turns out. They played it a second time, and we danced again. It was a cute little attempt at rebellion."
"The last show we played in Nashville before the pandemic was at a venue called Drkmttr, where I'd occasionally work or run sound. We closed with "Swinging Party" by The Replacements," Kirby told me. "It's a very small, linoleum-tiled room. I think they had a disco ball on, and there was a cozy, celebratory atmosphere with majority friends in the audience. They'd always put on a VHS tape to play silently on the chunky TV over the bar. I think that night they were playing Alien."
These are just two snapshots.
Kirby, older now, doesn't exactly relinquish her religious roots. Instead, she reimagines it instead of letting it whirlpool around in her head. "I don't turn to faith as a way to center myself anymore, consciously at least." She's still intellectually onboard with general church teachings though, and the language stays pretty intact, but she tries to hold herself back so she doesn't overuse it.
After touring the states, Kirby and crew just returned home after 7 weeks with Waxahatchee. You can catch her again in February 2022 with Illuminati Hotties and Fenne Lily. Tour dates are available here.
Listen to Katy's album 'Cool Dry Place' out now via Keeled Scales: